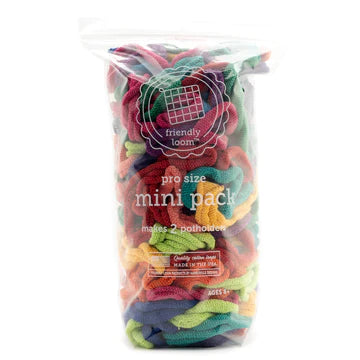 Harrisville Designs
Potholder PRO Loom by Friendly Loom and Loop Refills
Sometimes you need a fun, friendly, quick craft that makes a useful gift but doesn't take every bit of your brainpower. The Friendly Loom makes a 10" potholder that is dense and perfect for protecting your hands and your tables. The perfect first craft for kids, it also makes a wonderful gift for the crafty person in your life.
With Potholder PRO®, weave larger potholders that are even more beautiful. With your creative skills and our custom-sized Potholder PRO® and loops your potholders will be large enough for adult hands, more useful in the kitchen, and look professional.
Contents
•Sturdy Metal Loom 10" x 10"
•Enough cotton loops in mixed bright colors to make 6 potholders                                                                                                             •Metal weaving hook                                                                               
•Crochet hook for finishing
•Instructions
Mini Refill packs contain enough loops to make 2 potholders. Lotta Loops refill packs contain enough loops to make 6 potholder.
Recommended for ages 8 and older.
Made in the USA